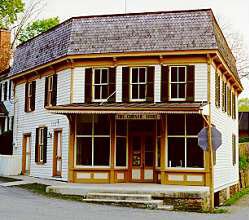 The battle of Franklin in Waterford
Some friends from Marblehead, Mass., recently told us of a landmark 17th Century house we knew of in that town. I couldn't credit the story, it was so absurd: people who wanted to live in Marblehead, a town of mighty strivers and significant incomes, bought this historic house, gutted it and rebuilt the interior to suit themselves, all rather quickly and without interference from city, state, or county.
Reminds me of the stories a Princeton, NJ, realtor used to tell me about what Princetonians did to the insides of their historic homes in the 1980s. But that was the twenty years ago. Who could believe such a story in these days?
Then I saw the most amazing item in the Leesburg paper this weekend. A family called the Franklins had bought a home in
Waterford, Va
., slightly upstream from me on the Catoctin Creek (picture, right). Waterford - the whole town - has national historic designation. It has been so since the days of FDR.
The Franklins were thwarted by local government from gutting their house and rebuilding it to personal taste and so they have applied to have the entire town of Waterford delisted from the national historic register.
Isn't that the best preservation story ever?
He noticed
Author Tim Reese pointed out to me that South Mountain dropped off Civil War Preservation Trust's ten-most-endangered sites this year. The mountain moved.
History of Gettysburg vandalism
This piece
offers a nice recap of recent attacks on Gettysburg monuments. Rewards are upt to $36,000 for the scalps of the latest depradators.